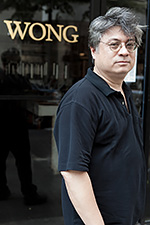 Contact Thad @
thad@thaddeusrutkowski.com
Watch a Video -
The White Race and White Rice

Buy my book
Violent Outbursts

Buy my book,
Tetched

Buy Roughhouse
at Amazon.com

Buy my new chapbook

Read my ebook,
Sex-Fiend Monologues

NEW BOOK

My book Violent Outbursts was released by Spuyten Duyvil Press in January 2016. The book is a collection of short fictions and is available at the Spuyten Duyvil Web page and on Amazon.com.


AWARD NEWS

My novel Haywire was a finalist in the fiction category of the Asian American Literary Awards, and it won the Members' Choice Award, given by members of the Asian American Writers Workshop in New York. Info: aaww.org.

I was awarded a fellowship in fiction writing from the New York Foundation for the Arts. The fellowship is a grant given to artists at critical stages in their careers. Info: nyfa.org.


UPCOMING WORKSHOP

"Fiction Writing 101" will be offered on Mondays during Sessions 2 and 6 at The Writer's Voice of the West Side YMCA, 5 West 63rd St., Manhattan. Session 2 starts Feb. 16, 2016, and session 6 starts Oct. 31, 2016. Designed for writers new to fiction or returning to the genre, this workshop will focus on the basics through exercises and assignments, as well as discussion of works in progress. Open to everyone. Eight meetings. Contact Amanda Selwyn at (212) 912-2635 or aselwyn@ymcannyc.org.


UPCOMING READINGS

Jan. 17, 2016, Sunday, 3 p.m.
Maple Leaf Bar, 8316 Oak St., New Orleans, La. 70118. Hosted by Nancy Harris. mapleleafbar.com

Feb. 21, Sunday, 7 p.m.
Sunday Salon, Jimmy's #43 bar, 43 East 7th Street, Manhattan. Free. Hosted by Nita Noveno, Sara Lippmann. facebook.com/events/1639880829610305/

March 5, Saturday, 2:30 p.m.
Brownstone Poets, Park Plaza restaurant, 220 Cadman Plaza West (near Clark Street, Pineapple Walk), Brooklyn. parkplazarestaurant.com

Nov. 6 (tentative), Sunday, 2 p.m.
Callanwolde Fine Arts Center, 980 Briarcliff Road N.E., Atlanta. $10. Champagne, refreshments. Hosted by June Akers Seese. callanwolde.org

January 1, 2017, 2 p.m. to midnight.
The Alternative New Year's Day Marathon. Nuyorican Poets Café, 236 E. 3rd St., Manhattan. 160 poets/performers. Free. facebook.com/alternativenyd

Feb. 8-11, 2017
AWP Conference, Washington, D.C., Washington Convention Center & Washington Marriott Marquis. (Tentative) launch of my next book, a novel, by Gival Press.


PUBLICATIONS

"Good Eggs," essay, The New York Times' Opinionator, January 18, 2015. opinionator.blogs.nytimes.com

"One Degree of Separation," essay, The New York Times' Opinionator, July 20, 2014. opinionator.blogs.nytimes.com

"Toasted," essay, The New York Times' Opinionator, June 18, 2012. opinionator.blogs.nytimes.com

"The Mountain Man," story, The New York Times' Opinionator, March 11, 2012. opinionator.blogs.nytimes.com




Hope to see you!