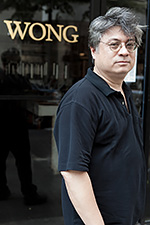 Contact Thad @
thad@thaddeusrutkowski.com
Watch a Video -
The White Race and White Rice

Buy my new book,
Haywire

Buy my book,
Tetched

Buy Roughhouse
at Amazon.com

Buy my new chapbook

Read my ebook,
Sex-Fiend Monologues

AWARD NEWS

My novel Haywire was a finalist in the fiction category of the Asian American Literary Awards, and it won the Members' Choice Award, given by members of the Asian American Writers Workshop in New York. Info: aaww.org.

I was awarded a fellowship in fiction writing from the New York Foundation for the Arts. The fellowship is a grant given to artists at critical stages in their careers. Info: nyfa.org.


NEW BOOK

Here is the Web page at Starcherone Books for my novel, Haywire: starcherone.com/thad.html. And here is the link at Small Press Distribution: spdbooks.org. The book is also available from dzancbooks.org, amazon.com, and Barnes and Noble.


UPCOMING WORKSHOP

"Fiction Writing 101" will be offered on Mondays during Sessions 2 and 6 at The Writer's Voice of the West Side YMCA, 5 West 63rd St., Manhattan. Session 6 starts Nov. 2, 2015. Designed for writers new to fiction or returning to the genre, this workshop will focus on the basics through exercises and assignments, as well as discussion of works in progress. Open to everyone. Eight meetings. Contact Amanda Selwyn at (212) 912-2635 or aselwyn@ymcannyc.org.


UPCOMING READINGS

October, Saturday, date TBA.
100,000 Poets for Change, Sidewalk restaurant, 94 Avenue A, Manhattan. Hosted by Valery Oisteanu.

November 1, Sunday, 2 p.m.
Memoir Reading, Callanwolde Fine Arts Center, 980 Briarcliff Road N.E., Atlanta. $10. Champagne and impressive refreshments. Hosted by June Akers Seese. Info: callanwolde.org

November 6-8, Friday through Sunday.
I'll be a featured author in the Singapore Writers Festival, sponsored by the National Arts Council of Singapore. See singaporewritersfestival.com for programming.

January 1, 2016, 2 p.m. to midnight.
The Alternative New Year's Day Marathon. Nuyorican Poets Café, 236 E. 3rd St., Manhattan. 160 poets/performers. Free. spokenwordextravaganza.org


PUBLICATIONS

"Good Eggs," essay, The New York Times' Opinionator, January 18, 2015. opinionator.blogs.nytimes.com

"One Degree of Separation," essay, The New York Times' Opinionator, July 20, 2014. opinionator.blogs.nytimes.com

"Toasted," essay, The New York Times' Opinionator, June 18, 2012. opinionator.blogs.nytimes.com

"The Mountain Man," story, The New York Times' Opinionator, March 11, 2012. opinionator.blogs.nytimes.com

"Between Places," story, Timber journal (University of Colorado at Boulder), winter issue, January 13, 2015. timberjournal.com

"Code of Violence," story, Digging Through the Fat | Ripping Out the Heart, June 17, 2015. diggingthroughthefat.com

"White Cats," flash fiction, Oddball magazine, March 4, 2015. oddballmagazine.com

"Mentorship," story, Empty Sink Publishing, Issue 11, February 2015. emptysinkpublishing.com

"Cramped Quarters," flash fiction, JMWW, Exquisite Duet orchestrated by Meg Tuite, March 23, 2015. jmwwblog.wordpress.com

"Kehena Beach," story, Asian Cha, December 2014. asiancha.com




Hope to see you!